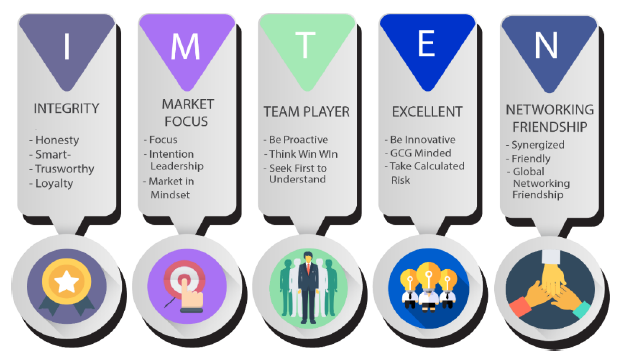 Insan PT Bandarudara Internasional Jawa Barat is a man who has:
Integrity : the disjointed between thoughts, feelings and behavior to always maintain high performance standards both for themselves and others through four (4) key behaviors that is honest (honesty), sage (smart), reliable (trustworthy), and loyalty ( loyality).
Market Focus : Dynamic to changes and market developments, especially with regard to service and Aerocity directly or indirectly with the focus, is guided to create great works through leadership intention (intention leadership) and based on the demands of the market (the market in).
Team Player : Becoming a world-class company, look at the work patterns with the super team of reliable, mutual support, cooperation, and achieved with a proactive attitude (be proactive), think win-win (think win- win), understand a newly conceived (seek first to understand );
Excellence : Success in responding to various challenges and will grow and develop into a world-class company through human resources and operational reliability through Be innovative, GCG minded, and take calculated risk.
Friendship Networking : The success of the intrinsic achieved through a network of friendly, able to synergize the various aspects that exist to work together as well as open and friendly (friendly) with the mindset is not limited territorial (global networking).
The company culture is shortened to I'M TEN (I'm 10, I'm Perfect).
English